Meet the 2019 Summer Interns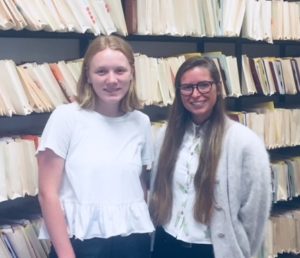 Legal Intern Audrey Meyer (Pictured on Right)
I am a rising 3L at the University of St. Thomas School of Law, where I am a student ambassador and Moot Court Director. I received my BS in Professional Writing at UW River Falls. My passions lie with public interest areas of law, and I hope to apply my degree and skills towards improving the lives of at-risk individuals and changing the way we treat, respond to, and grow in our environments. I have learned that there is no greater feeling of reward than helping people when I can, and there is no shortage of opportunity to do that at CLC. Alongside child welfare, I regularly pursue legal interests in animal welfare and environmental protection.
Development Intern Mia Benson (Pictured on Left)
I am a student at the University of Minnesota – Twin Cities pursuing my undergraduate degree in English with a minor in American Indian Studies. As a development intern, I am helping to prepare for CLC's upcoming Celebration of Champions Annual Benefit. My favorite part of interning at the Children's Law Center is learning about how non-profit legal organizations function.
Volunteer Katelyn Goodno (Not Pictured)
I'm a rising senior at Mounds Park Academy in St.Paul. I am planning on going to college next year to study psychology and sociology, though I'm not sure where I want to go yet. Currently, I am involved in the debate team at school, as well as soccer, basketball, and softball. I am so excited to volunteer at the children's law center this summer, and I look forward to increasing my knowledge of the legal process!
Timothy Grishkevich (Not Pictured)
I am a recent graduate from Concordia University in Portland Oregon. I am taking a year to study for my LSAT and to work at law firms such as this one. As an intern here at CLC, I have been put in charge of refreshing the website and bringing it back up to date. I look forward to learning more about the inner workings of a non-profit law firm.