Call for Nominations!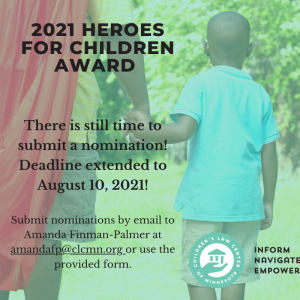 Call for Nominations – Heroes for Children Award 2021
Do you know of a Hero for Children? Nominate them for the CLC Heroes for Children 2021 Award! Awardee will be recognized at the virtual October 7, 2021 Celebration of Champions.
This award recognizes an individual who has made significant contributions to the well-being of Minnesota's children in either a career or volunteer position. Nominees may work with children in any area—such as teaching, health care, legislation, advocacy, or mentoring—affecting physical, spiritual, social, or emotional well-being.
Recent award winners:
Carmeann Foster, Executive Director of Rebound Minneapolis, 2020 Awardee
Diane Cross, CEO of Fraser – Minnesota 2019 Awardee
McKenna Arenholz 2017 Awardee, McKenna's Law