Mega Pickle and Pong Chooses CLC for 1st Annual Charity Invitational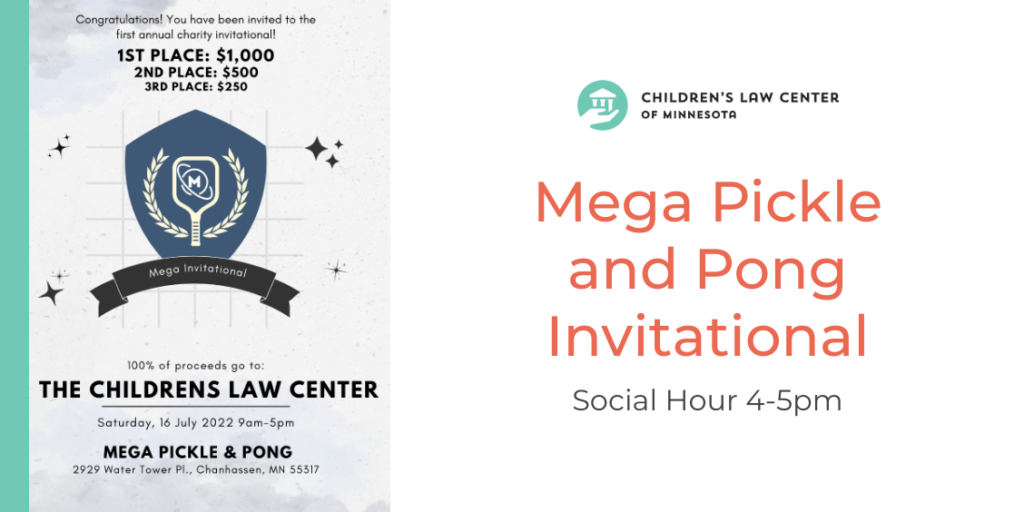 Mega Pickle & Pong Pickleball Fundraiser Tournament
Mega Pick Pickle & Pong, newly opened in March 2022 in Chanhassen, MN, is hosting the 1st Annual Charity Invitational. Children's Law Center of Minnesota was selected as the beneficiary of a $5000 match from the event. Thank you!!!
The CLC community is invited to join this event as a spectator, pickleball player or stop by a social hour from 4-5pm.
Date: July 16th
Time: 9-5pm
Location: 2929 Water Tower Pl, Chanhassen, MN 55317
Attendance suggested fee: $5
Pickleball entrance suggested fee: $50 per person, or $100 for a team.
Please join CLC at a social hour from 4-5pm hosted by Mega Pickle & Pong. 
Contact: Amanda Finman-Palmer or Rick Gray