2022 Rosalie E. Wahl Justice for Children Award: Jody Alhollina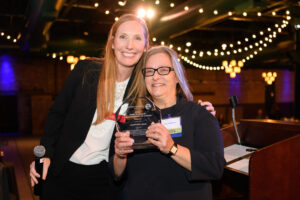 Children's Law Center's Rosalie E. Wahl Justice for Children Award is presented annually to an individual who has dedicated his or her life to fighting for justice for at-risk or underprivileged children in our communities. The late Honorable Rosalie E. Wahl earned a reputation as a voice for those living on the edges of society—the poor, the accused, and the powerless. This year, CLC is honored to award Jody Alholinna for her many years of dedicated work on behalf of Minnesota's foster care children.
Jody is well versed in Minnesota's child protection law and practice. She has practiced law for nearly 25 years serving as a strong advocate for children in juvenile and family court proceedings. She is admitted to practice before the United States Supreme Court, the Minnesota Supreme Court and several of Minnesota's Tribal Courts.
Jody also has significant experience and competence in cases involving the Indian Child Welfare Act (ICWA) and the Minnesota Indian Family Preservation Act. She has served as a Guardian ad Litem representing the best interests of children in state and tribal courts spanning a period of more than twenty-six years and she has worked tirelessly to help support Minnesota's Guardian ad Litem ICWA division in its practice. Additionally, Jody helps train Guardians ad litem and she frequently presents at state and national conferences and seminars.
Jody consistently and easily shares her vast experience, insight and expertise with others. Earlier in her career, Jody served as an adjunct professor at Hamline University School of Law where she taught child advocacy courses. She also served as the Director of the Child Advocacy Clinic. These efforts helped train and develop future child advocates. Presently, Jody continues to readily share her insight and knowledge with others to help any youth in need.
Jody routinely serves on the boards of directors of various community non-profit and bar-related organizations serving homeless youth, children and families. We know Jody as a CLC volunteer attorney who has provided pro bono legal representation to our clients for more than two decades, but Jody hasn't just helped our clients, she has also provided pro bono services to parents and families of Native American children on behalf of the ICWA Law Center.
We commend Jody's long-standing commitment to Minnesota's at-risk and foster care youth and her dedication to and a remarkable impact upon the welfare of children in Minnesota. Congratulations, Jody Alhollina!
Please direct any questions to Children's Law Center of Minnesota, executive director, Lilia Panteleeva at info@clcmn.org.
View the 27th Anniversary Celebration of Champions. Make a tribute gift to honor Jody here.