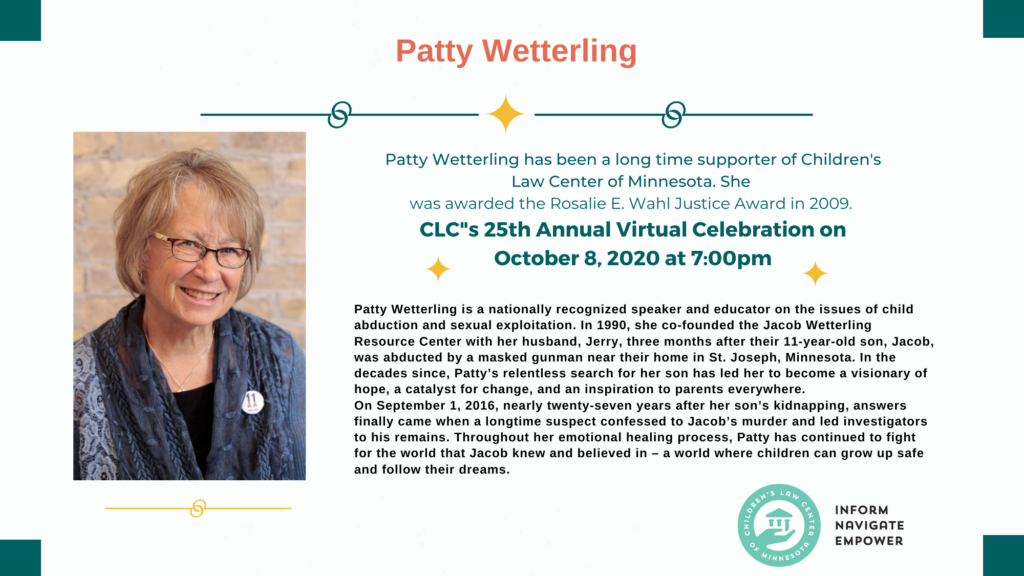 Children's Law Center of Minnesota is thrilled to share that Patty Wetterling, national children's safety advocate will be the keynote speaker for the October, 8, 2020, 7:00pm, Virtual Event, livestreamed at youtube.com/clcofmn. Patty Wetterling was recognized by CLC with the Rosalie E. Wahl Justice for Children Award in 2009, and is a longtime CLC supporter.
Patty Wetterling is a well known national advocate, visionary & educator on the issues and prevention of child abduction and exploitation.  In 1990, she co-founded the Jacob Wetterling Resource Center with her husband, Jerry, three months after their 11-year-old son, Jacob, was abducted by a masked gunman near their home in St. Joseph, Minnesota. In the decades since, Patty's relentless search for her son has led her to become a visionary of hope, a catalyst for change, and an inspiration to parents everywhere.
On September 1, 2016, nearly twenty-seven years after her son's kidnapping, answers finally came when a longtime suspect confessed to Jacob's murder and led investigators to his remains. Throughout her emotional healing process, Patty has continued to fight for the world that Jacob knew and believed in – a world where children can grow up safe and follow their dreams.
Her keynote asks, "Are the Children Well? using a Masai tribe proverb to emphasize the importance of taking care of all children. Patty has been a life-long champion for children. Her vision is to build a world where children can grow up safe and follow their dreams.
CLC is honored to partner with Patty Wetterling to promote the wellbeing and legal rights for Minnesotan children. In genuine, Patty fashion, she shares her own experience with foster care in her own family, and the complexities of the legal system that she and her family faced after Jacob was found. Her message: Kids deserve to have a better world, and it is our responsibility to improve the lives of all children. CLC does that by giving abused and neglected youth a voice a chance at a positive future.
Use this link to register for the virtual event.
Questions: Please contact, CLC Development Director, Amanda Finman-Palmer at amandafp@clcmn.org or 612-760-9698.