Congratulations, 3M! 
2020 CLC Distinguished Service Award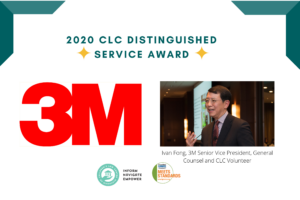 Children Law Center annually identifies one law firm or corporation whose work on behalf of CLC's clients exemplifies the commitment and dedication to pro bono representation that is the foundation of our mission.  This year, Children's Law Center awarded 3M, with the Distinguished Service Award.
Over the years, countless attorneys from 3M have partnered with CLC to help provide quality legal representation to our growing number of child clients.  3M's lawyers are zealous advocates ensuring that CLC's clients' voices are heard, that they maintain contact with their siblings, preventing unwarranted movements between placements, and fighting aggressively in court for what our clients want.
Lisa Fulton, former president of the Board, and current CLC volunteer has made a tremendous impact on CLC including focusing legal representation for Ramsey County clients, Lisa has been an ambassador among 3M attorneys and recruited volunteer attorneys for CLC.
3M Senior Vice President and General Counsel, Ivan Fong, is a current volunteer attorney shared in a sponsor video why it's important to represents youth and children in foster care. "At any given time CLC represents hundreds of children in foster care, kids who deserve quality legal representation and hope.
CLC is extremely grateful to 3M for helping us achieve our goal of giving children in foster care a voice in the systems that affect their lives, from achieving a law that protects students from expulsion without sufficient notice, to fighting for our client's rights every day, and generously supporting CLC through grants, sponsorships and donations.
Thank you 3M and Congratulations!!!