Cary Martin Shelby Keynote Speaker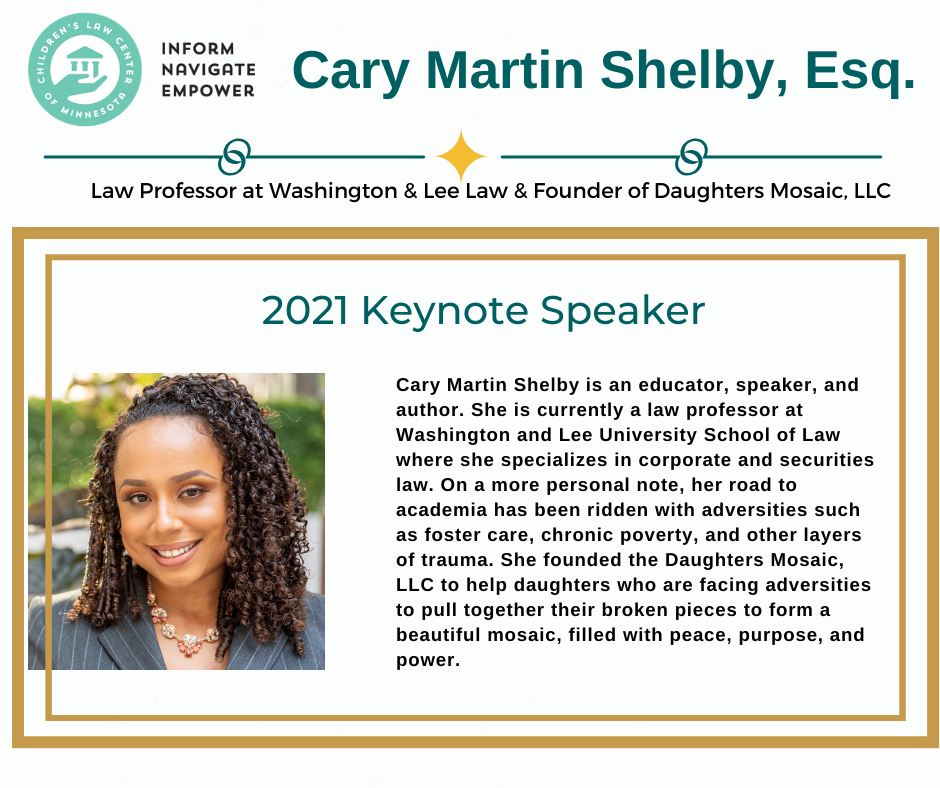 Children's Law Center of Minnesota is thrilled to share that Cary Martin Shelby will be the keynote speaker at the October, 7, 2021, 7:00pm, Virtual Event, livestreamed at youtube.com/clcofmn. Shelby is currently a law professor at Washington and Lee University School of Law where she specializes in corporate and securities law.
On a more personal note, her road to academia has been ridden with adversities such as foster care, chronic poverty, and other layers of trauma. As an educator, these adversities have driven her to make the law more accessible to a wider range of students, who may be encountering comparable challenges.  She has since founded the Daughters Mosaic, LLC to help daughters who are facing adversities to pull together their broken pieces to form a beautiful mosaic, filled with peace, purpose, and power.
CLC is honored to partner with Cary Martin Shelby, Esq. to promote the wellbeing and legal rights for Minnesotan children. Her message: My personal success as someone who experienced foster care should be typical, not the exception. As a former foster youth, my life was positively impacted by many individuals along the way, a mosaic so to speak, and CLC is vital part of the mosaic for Minnesotan children in foster care. CLC gives 800 abused and neglected youth a voice and a chance at a positive future.
Use this link to register for the virtual event.
Questions: Please contact, CLC Development Director, Amanda Finman-Palmer at amandafp@clcmn.org or 612-760-9698.