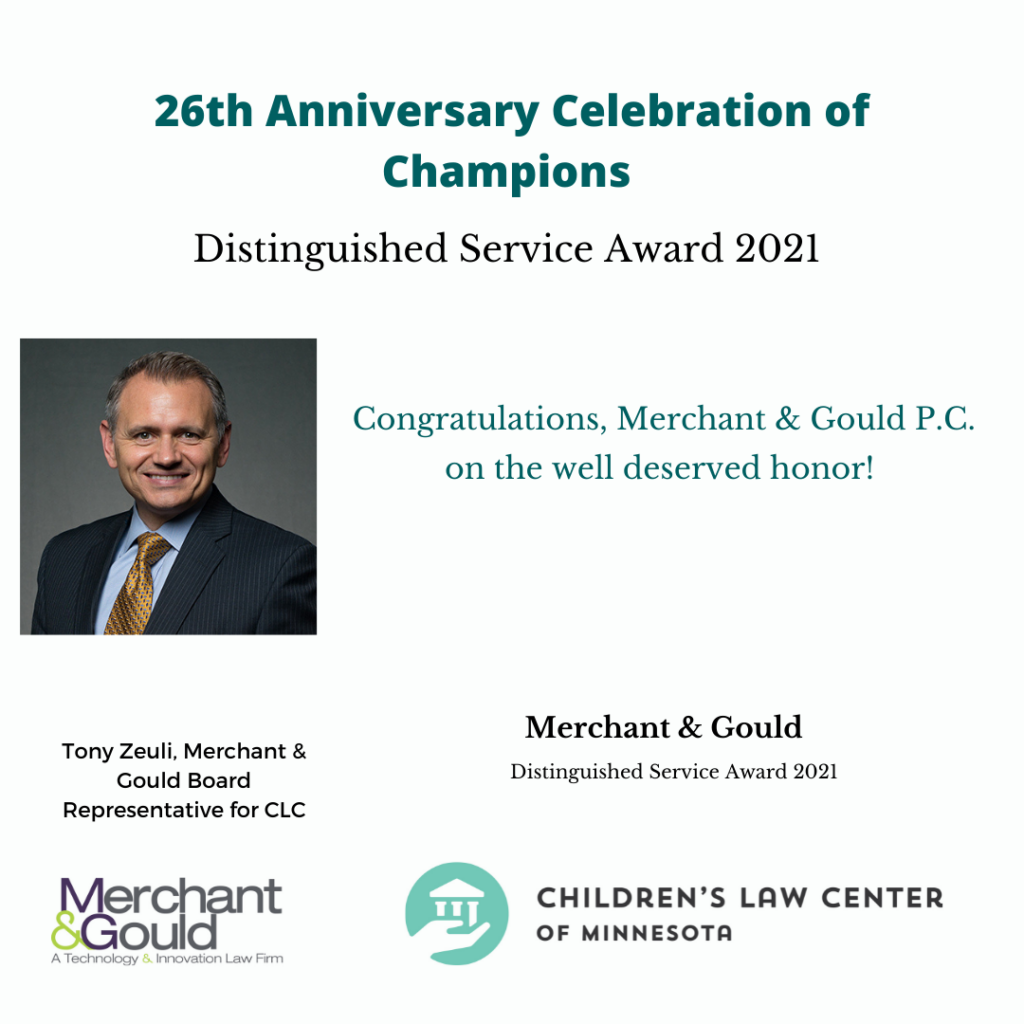 The Distinguished Service Award is given annually to a law firm or corporation whose work on behalf of CLC's clients exemplifies the commitment and dedication to pro bono representation that is the foundation of our mission.
This year, Children's Law Center is proud to present our Distinguished Service Award to Merchant & Gould P.C.. Merchant & Gould P.C. was officially recognized at the 26th Anniversary Virtual Celebration of Champions Benefit & Awards, October 7, 2021 at 7:00pm.
Merchant & Gould's lawyers are zealous advocates ensuring that CLC's clients' voices are heard, that they maintain contact with their siblings, preventing unwarranted movements between placements, and fighting aggressively in court for what our clients want.
A special shout out to Merchant & Gould's CLC Volunteer cohort: Karen Beckman, Eric R. Chad, Julie Daulton, Rachel C. Hughey, Bradley D. Kuxhausen, Anneliese Mayer, Elisabeth Muirhead, Ryan Smith and Rachel K. Zimmerman Scobie. Merchant & Gould mobilizes highly engaged CLC board & committee leadership. Tony Zeuli is the current board member representing Merchant & Gould and he is a strong leader who is a consistent ambassador for CLC and zealously rallies support for CLC.
Tracey Skjeveland, Merchant & Gould, COO/CFO serves on the CLC Board Finance Committee, and provides ongoing invaluable expertise from the perspective of a CFO. When the PPP loan opportunity arose, she immediately connected CLC with key resources on how to apply and stay connected to the swiftly changing related legislative decision. She was instrumental in CLC successfully receiving a PPP loan and getting the loan forgiven.
Merchant & Gould is always quick to respond to request for help for in-kind donations, in fact CLC has a robust stock of client folders, due to Merchant & Gould's generosity. CLC also received mugs and other necessities. Merchant & Gould also committed to hosting CLC Board meetings for 2020, including lunch for all board members.
CLC is extremely grateful to Merchant & Gould for helping us achieve our goal of giving children in foster care a voice in the systems that affect their lives, to fighting for our client's rights every day, and generously supporting CLC through sponsorships and philanthropic donations and in-kind requests.
Thank you Merchant & Gould and Congratulations!!!
View the 26th Anniversary Awards Ceremony. Make a gift in honor of Merchant & Gould Volunteers.