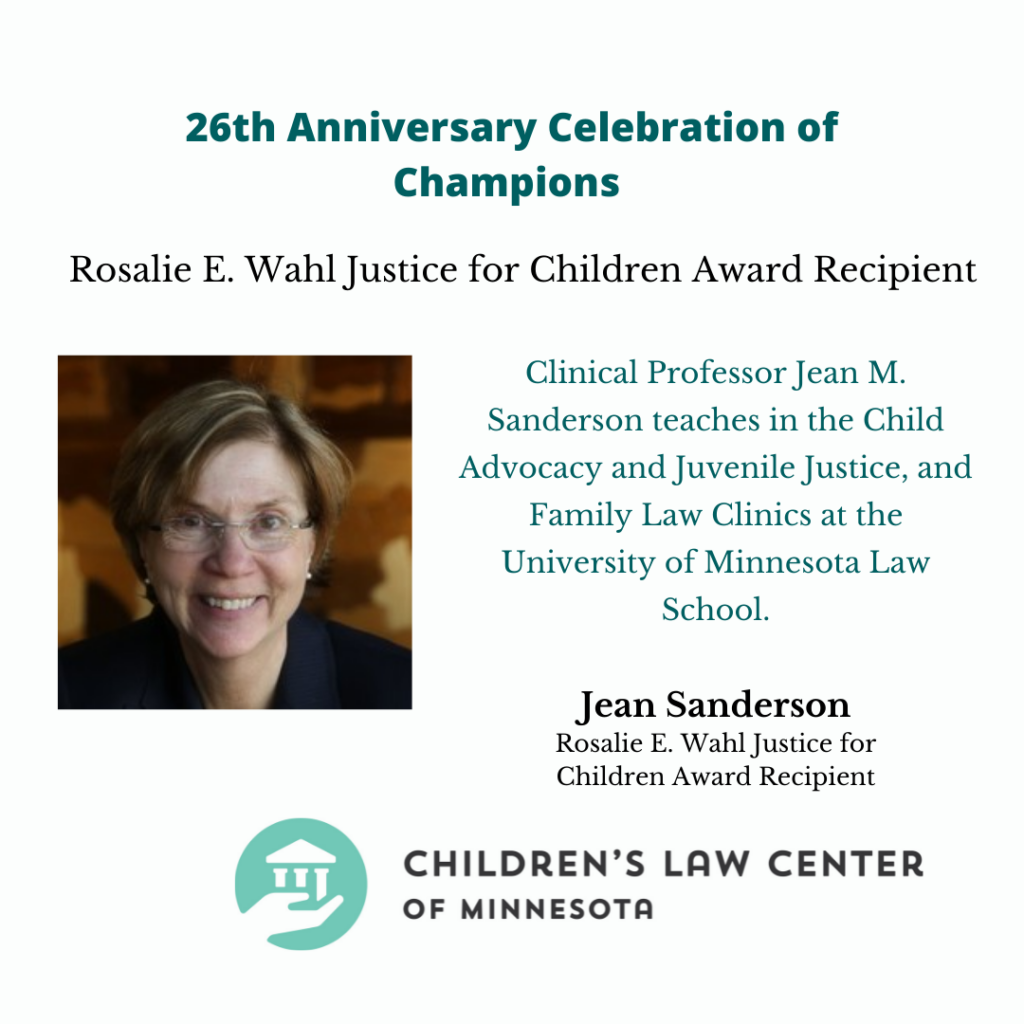 Professor Jean Sanderson, Clinical Professor at the Child Advocacy and Juvenile Justice Family Law Clinics at the University of Minnesota Law School, Awarded Children's Law Center of Minnesota Rosalie E. Wahl Justice for Children.
Children's Law Center's Rosalie E. Wahl Justice for Children Award is presented annually to an individual who has dedicated his or her life to fighting for justice for at-risk or underprivileged children in our communities. The late Honorable Rosalie E. Wahl earned a reputation as a voice for those living on the edges of society—the poor, the accused, and the powerless.
This year, Children's Law Center is proud to present our Rosalie E Wahl Justice for Children Award to Jean Sanderson. Jean was officially recognized at the 26th Anniversary Virtual Celebration of Champions Benefit & Awards, October 7, 2021 at 7:00pm.
Clinical Professor Jean M. Sanderson teaches in the Child Advocacy and Juvenile Justice, and Family Law Clinics. Professor Sanderson was awarded the first Stanley V. Kinyon Clinical Teaching Award in 1997, an award she also received in 2005, 2013, and 2020. Professor Sanderson received her B.A. degree from Macalester College and her J.D. degree from Duke University School of Law. She practiced law in Minnesota as an assistant county attorney for St. Louis, Hennepin, and Washington counties. She was also the Executive Director of the Minnesota County Attorneys' Association.
Jean joined the University of Minnesota Law School Clinical Program in 1991. During that time, not only has Jean advocated on behalf of countless juveniles, but she has also taught and inspired future waves of Minnesota attorneys in developing their skills to replicate such advocacy. In addition to her teaching responsibilities, Jean also directed the Law School's clinical program, one of the largest in the country that continued to grow with her leadership, from 2007 to 2015.
Clinical law faculty are in a special position as professors and as advocates. They have the opportunity to both teach future practitioners and work on behalf of clients in the process. In her 30-year career as a clinical professor, Jean has taught close to 500 hundred law students to be advocates for children. Her impact is felt around the state and throughout the profession.
A former student shared, "Jean taught me the impacts of the law through the eyes of children and as unheard victims of our judicial system.  She instilled in me, very early in my legal education, that we all have a collective duty and obligation to recognize and respect children's legal rights and to push for change in our infrastructure to empower children. Under her leadership children have a voice in the legal system."
As shared by a former colleague, "In her work with the Child Advocacy Clinic, Jean Sanderson is always thinking of the kids in eye of the storm. She built that clinic in order to train student lawyers to similarly focus on the defenseless little people made vulnerable by family conflict and hardship. She has a heart of gold, and she is a problem solver – a terrific example for our lawyers in training." 
CLC honors Jean Sanderson for her many years of dedicated work on behalf of Minnesota's foster care children. Congratulations, Jean!
Please direct any questions to Children's Law Center of Minnesota, executive director, Lilia Panteleeva at lpanteleeva@clcmn.org.
View the 26th Anniversary Celebration of Champions. Make a tribute gift to honor Jean here.