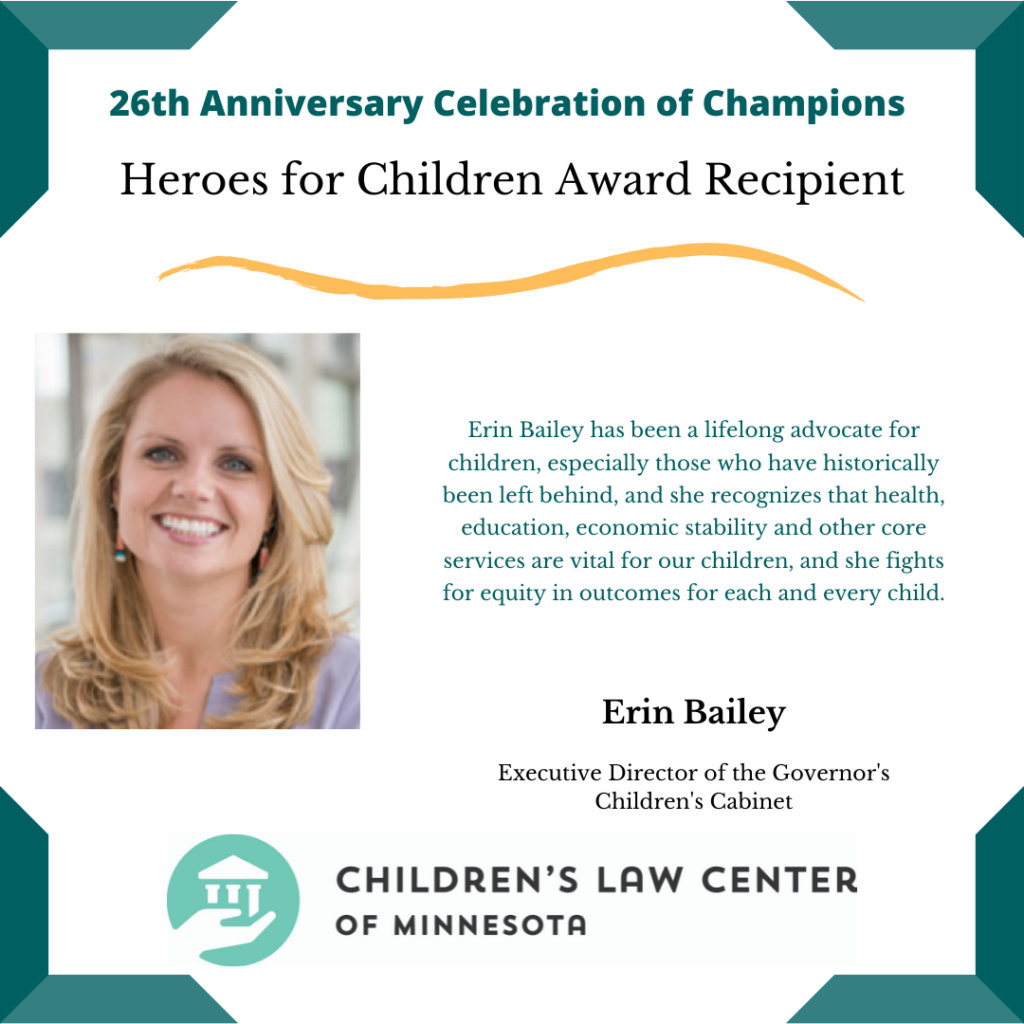 Erin Bailey, Minnesota Children's Cabinet Executive Director Awarded Children's Law Center of Minnesota Heroes for Children Award
The Heroes for Children Award is given annually to an individual or group who has made a significant contribution to the well-being of Minnesota's children, either in a career or in a volunteer position. Nominees may work with children in any area—such as teaching, health care, legislation, advocacy, or mentoring—affecting physical, spiritual, social, or emotional well-being.
This year, Children's Law Center is proud to present our Heroes for Children Award to Erin Bailey. Erin was officially recognized at the 26th Anniversary Virtual Celebration of Champions Benefit & Awards, October 7, 2021 at 7:00pm.
Erin Bailey has been a lifelong advocate for children and health care for underserved communities and she recognizes that healthcare, education, and other core services are vital for our children, and she fights for access and quality services for each and every family and child. Since 2019, Erin has served as the Assistant Commissioner for the Children's Cabinet, an interagency partnership that Governor Walz has charged with helping make Minnesota the best place for each and every child to grow up. Every administration puts its own stamp on the Children's Cabinet—under Erin's leadership, the Children's Cabinet has become an active and effective nexus for all state agencies that work on issues related to children.
She began her career in Washington, D.C., working in federal health policy including advising the United States Senate Committee on Indian Affairs. Erin also launched and served as the inaugural Executive Director at the Center for Native American Youth at the Aspen Institute, which is dedicated to raising national attention to the issues facing Native American youth.
In her current role as Executive Director of the Minnesota Children's Cabinet, Erin has worked to ensure that government decisions in responding to the COVID-19 pandemic always consider the outcomes and challenges for children and families, including by pushing to keep childcare accessible and safe. During a time when state leaders were working on multiple fronts to help Minnesota's families, Erin kept her focus on the children and those who care for them and those that serve them – child care, schools, mental health programs, and the child welfare system, among others.
When asked, how did you get here? Why do you do this work? Her response is that she was raised, by a fierce single mom, after her father's death at age 8, and her family instilled in her values to look beyond her status, see the disparities around her and improve the lives of others through social justice. Erin believes that an investment in kids is an investment in everyone and in a community's future.
Bailey shared in response to receiving the Heroes for Children award,
"I am incredibly honored to be recognized by CLC and its network of leaders serving children. My passion and commitment to improving the lives of children and youth has been a personal mission – and I've been fortunate enough for that to include my career of a series of incredible life changing roles and a network of supporters and youth that inspire me. Children are what it's all about – our future, our hope."
Erin is, put simply, a force to be reckoned with, and thankfully, she advocates relentlessly for the betterment of the lives and well-being of children in Minnesota. She is truly a hero for children.
Congratulations Erin!
Please direct any questions to Children's Law Center of Minnesota, executive director, Lilia Panteleeva at lpanteleeva@clcmn.org.
View the 26th Anniversary Celebration of Champions. Make a tribute gift in honor of Erin.