2022 Heroes for Children Award: Jessica Rogers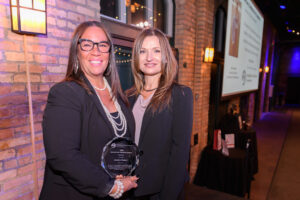 The Heroes for Children Award is given annually to an individual or group who has made a significant contribution to the well-being of Minnesota's children, either in a career or in a volunteer position. This year, Children's Law Center is proud to present our Heroes for Children Award to Jessica Rogers.
Jessica is the executive director of Connection to Independence (C2i), a non-profit that provides unique programming and advocacy for foster care youth and to promote successful and healthy transition to living independently as they reach adulthood.  Under Jessica's leadership, the organization now has a new goal in sight – to make this small community organization a national model.
Jessica led the organization through the pandemic – taking her staff into the frontlines to care for the aged-out youth who lost their jobs, had little recourses and no familial support systems. They paid their rent, delivered meals, essentials, and safety items to youth on lockdown. She played significant role in forcing a moratorium on fosters aging out of the system during the pandemic and pushing for additional income for foster youth to survive the financial devastation of the shutdown.
Jessica's conviction and dedication to foster youth is evidenced by her active involvement in Coalition of Family and Foster Advocates, two national projects with the Annie E. Casey Foundation, including SOUL Family and the Financial Capabilities Equity Arc, and several advocacy and reform initiatives at Hennepin County and with the State of Minnesota's DHS.
Jessica Rogers is moving the dial. Her fierce advocacy on behalf of fosters is what is required for change to take place. Earlier this year, Jessica was awarded the prestigious Social Justice Leadership Award from United Way and 3M Open. She was asked to be a part of Hennepin County's Child Well-Being Advisory Board by County Commissioner, Angela Conley, and she was awarded a federal contract to serve even more foster youth. Again, affirming her abilities and determination to make changes in this field.
"I know Jessica personally. Jessica was born into foster care and adopted out. She is a single mother of a Black teen boy. While Jessica was raised by a white family, she is acutely aware of the challenges of raising a black son in today's America" said CLC's executive director, Lilia Panteleeva.
Jessica experienced first-hand the disproportionate rate in which Black children are entering and re-entering foster care system. When asked how in the world is she doing it all, she replied, "I am doing it for my babies."
Congratulations, Jessica Rogers on the Heroes for Children Award!
Please direct any questions to Children's Law Center of Minnesota, executive director, Lilia Panteleeva at info@clcmn.org.
View the 27th Anniversary Celebration of Champions. Make a tribute gift to honor Jessica here.