2023 Rosalie E. Wahl Justice for Children Award: Honorable Gail Chang Bohr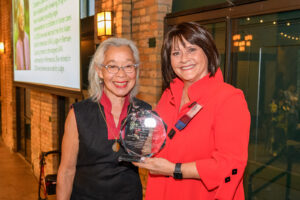 Children's Law Center's Rosalie E. Wahl Justice for Children Award is presented annually to an individual who has dedicated his or her life to fighting for justice for at-risk or underprivileged children in our communities. The late Honorable Rosalie E. Wahl earned a reputation as a voice for those living on the edges of society—the poor, the accused, and the powerless. This year, CLC is honored to award the Honorable Gail Chang Bohr with the award for her many years of dedicated work on behalf of Minnesota's foster care children.
Judge Bohr holds a Master of Science in Social Work degree.  Following a 19+ year career as a clinical social worker serving children and families, she entered William Mitchell College of Law in St. Paul (now Mitchell Hamline).  Shortly after graduating from William Mitchell, Judge Bohr founded and became the 1st executive director of Children's Law Center and served CLC from 1995 to 2008. At CLC's helm, she initiated path-breaking programs that included:
Providing legal representation to children in foster care;
Achieving system reforms, including

Keeping siblings together in placement
Ensuring independent living plan for youth aging out of foster care
Securing a statutory change so that a foster youth's earnings for college were NOT used to reimburse the county for their care.

Judge Bohr was co-counsel in 21 federal and state court appeals
While Executive Director of CLC, she represented children in court, managed staff and over 270 CLC pro bono attorneys.
Judge Bohr has written many articles on due process rights and the representation of children, and has served on national and statewide committees – all in service to children.
Judge Bohr has received numerous awards for her work as a child advocate
We commend the Honorable Gail Chang Bohr's long-standing commitment to Minnesota's at-risk and foster care youth and her dedication to making a remarkable impact upon the welfare of children in Minnesota.