2023 Distinguished Service Award: Fredrickson & Byron, P.A.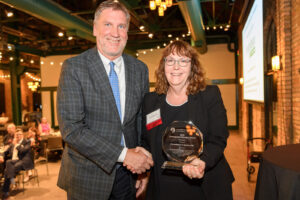 Children Law Center annually identifies one law firm or corporation whose work on behalf of CLC's clients exemplifies the commitment and dedication to pro bono representation that is the foundation of our mission.  This year, Children's Law Center is pleased to present Fredrikson & Byron, P.A. with the "Distinguished Service Award".
Fredrikson & Byron is being honored with the Distinguished Service Award for their long-standing history of supporting CLC dating back to 1993 when Fredrikson incorporated CLC.  Fredrikson's support has continued without interruption through its impressive volunteer attorneys, who at last count have represented 96 CLC clients. Fredrikson's attorneys and staff are an invaluable part of CLC's pro bono representation of foster care youth.
Additionally, Fredrikson & Byron has continuously provided CLC with astute and impressive legal research and writing projects we use in our motion practice.
Historically Fredrickson & Byron has provided CLC with expert Amicus and appellate assistance on critical issues facing youth in care or at risk of harm.
In addition to providing pro bono legal representation to CLC clients, Fredrikson has continuously provided a variety of support to CLC since our inception. Fredrickson has a historically strong and consistent presence on CLC's Board and has generously provided CLC with critical assistance to help CLC navigate legislative changes.
CLC is grateful for Fredrikson's support throughout the years and honored to have presented them with this well-deserved award.  We could not provide the vast array of quality services without the dedication we continue to receive from Fredrikson.
Thank you, Fredrikson & Byron for your commitment to representing children and youth in foster care and for your exemplary commitment to uplifting the work of CLC.