2023 Heroes for Children Award: Hoang Murphy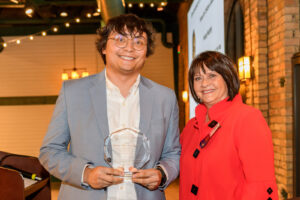 The Heroes for Children Award is given annually to an individual or group who has made a significant contribution to the well-being of Minnesota's children, either in a career or in a volunteer position. This year, Children's Law Center is proud to present our Heroes for Children Award to Hoang Murphy.
Hoang founded Foster Advocates in 2018, based on an audacious idea: that the child welfare system change could, and should, be led by the people most impacted. Hoang recognized the need for this organization and thus created more opportunities for Foster leaders and collectively improved outcomes for Fosters in the system.
Hoang is a Children's Hero because he knows personally how the foster care system narrows the imagination and hope of too many young people. He imagines a world without the need for foster care, where families are rarely separated and child welfare systems help children dream, not just survive. As founder of Foster Advocates, he helps the people most impacted by the foster care system to lead this change. To achieve a shift in leadership and imagination, Hoang built coalitions that worked toward transformational change and sought new and creative ways to build movements that heal personal and collective trauma for Fosters in Minnesota.
Hoang's leadership for Foster youth is historic in many ways. In addition to the relational networking that has been facilitated through Foster Advocates, providing support systems for Fosters and their peers across the state, Hoang's policy wins at the legislature have significantly impacted the landscape for child welfare across Minnesota and the nation. Under Hoang's leadership, Foster Advocates passed five historic bills in its first five years including:
1) Keep Fosters in School Act: This law makes it clear in state law that Fosters are to be enrolled in school and cannot be disenrolled for more than seven school days.
2) Fostering Education Act: This law established the Fostering Independence Grant, making it so eligible Fosters get full cost-of-attendance grants to pay for their post-secondary dreams. (California has mirrored our legislation in an attempt to pass similar bills to help Fosters in California access higher education).
3) Maya's Law: This bill closed a loophole in Minnesota that didn't grant children the right to be interviewed separately from their abuser when making an allegation of abuse. It also made it so that Fosters are to be
interviewed separately whenever a child welfare agency is doing a check-up or visit.
4) Creation of the Office of the Ombudsperson for Foster Youth: Prior to the existence of this bill, there was no one that Fosters could reach out to when facing abuses or challenges within the foster care system. With
the creation of the Ombudsperson Office, Fosters will have an entity with structural power to hold the county child welfare agencies and the Department of Human Services accountable.
5) Foster Success Expansion: This bill provided a direct appropriation from the Office of Higher Education to Foster Advocates to continue supporting Fosters in accessing their college dreams through the
Fostering Independence Grants. Hoang is an exceptional individual who embodies the qualities of a true Children's Hero. His ability to connect, inspire, and advocate for Foster in Minnesota has had a profound and lasting impact on the lives of countless young individuals in our community.