Congratulations Debra Kovats for 20 Years of Military Service!
CLC Staff Attorney Celebrates Retirement from the U.S. Army
Debra Kovats began her legal career as an Assistant Public Defender in both the First and Tenth Judicial Districts, leaving to serve on Active Duty in the Army after 9/11. After returning to MN, Debra worked at the Minnesota Innocence Project litigating wrongful DNA convictions before joining the staff at Children's Law Center of MN in 2015.
Debra nominated Children's Law Center for recognition from the military, to highlight the support, flexibility and accommodation CLC had provided over the past five years when she needed to attend to her military obligations. In November 2020, Children's Law Center of Minnesota received this commendation for being a Patriot Employer for contributing to national security and protecting liberty and freedom by supporting employee participation in America's National Guard and Reserve force.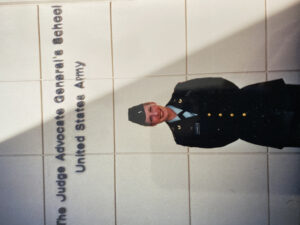 AFP: When did you join the military? What motivated you to join?
DK: I joined the military in 2000.  As a law student and later new attorney, I encountered a few attorneys who had served in the JAGC. With their insight and encouragement, I decided to apply.
AFP: What is your title? Can you explain what you do in JAG Corps and describe the commitment?
DK: My rank is Lieutenant Colonel.  I have held various duty positions over the years, but primarily my positions have been geared toward Trial Defense Services (TDS).  Much like public defenders, I was the appointed counsel for Soldiers who were in trouble. My duty positions never really fit neatly into the one weekend a month, two weeks a year that is common for Soldiers serving in the Guard or Reserves.  At any given time, I would always have clients and cases that I was actually working on in the evenings and weekends each month.  Additionally, I was required to meet the Army's annual training requirements which consists of both legal and non-legal training ranging from physical fitness, ethics training to weapons qualifications.
AFP: How does your service influence your work as a public interest attorney and vice versa?
DK: I believe that my service in the military and my service at CLC go hand in hand.  At the base of it all, it is about helping people.  I became an attorney because I wanted to help people and while that has taken different shapes over the years, my focus and primary motivation for practicing law is to help people.
AFP:  What will you miss most about your service? What are you looking forward to about having more time at home?
DK:  I will miss the camaraderie of serving with my fellow Soldiers.  In the Reserves, I met really interesting people who have done just amazing things both in the military and in their civilian jobs.
As I complete my military service, I am looking forward to spending more time with my family, reading books instead of trial transcripts in my free-time and making the most of enjoying watching my kids grow up.
AFP: What was it like balancing CLC and JAG corps?
DK: I was extraordinarily lucky!  CLC has always been incredibly supportive of my military duty.  As anyone in the Reserves knows, sometimes orders change at the last minute.  That can be frustrating for everyone, but CLC was understanding and accommodating with last minute changes. I am so thankful to be able to work at CLC and look forward to many more years of representing our youth.